Welcome to Bayside Sandblasting & Painting, Inc.
Our experienced staff will help you determine the appropriate surface preparation or cleaning system for your specifications. Proper surface preparation is the foundation of every successful painting project.
Our fully trained sandblasters are equipped to get the job done quickly, effectively, and at a minimum downtime for our customers.
Bayside Sandblasting & Painting, Inc. provides a wide range of Surface Preparations. Dry & Wet Abrasive Blasting Sand:
Grit, Glass Bead, Shot
Aluminum Oxide, Walnut Shell
High Pressure Washing
Chemical Cleaning
Lead Paint Removal
Power & Hand Tool Cleaning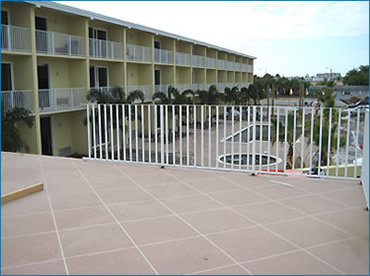 Bayside Sandblasting & Painting, Inc. work is also experienced with exposing aggregate, which has become an alternative look for concrete, graffiti removal and building restorations.
Bayside Sandblasting & Painting, Inc. is a unique company that provides a wide range of specialized services.
Surface preparation and coating systems are different for each project, our fully trained staff is committed to providing the best method and quality while continuing to exceed our customer's expectations in a cost effective manner.
We have earned a reputation for quality workmanship and dependability since 1975. We are fully bonded, carry liability insurance and all employees are covered by workers compensation. Bayside Sandblasting & Painting, Inc. provides professional service to a variety of Industries.
What People Are Saying About Us
"Dear Mr. Begin, This is the first letter I've ever written to applaud a company and its representatives for a job well done. It has been a long while since I've experienced professionalism from start to finish from a company we've hired. From my first contact with you (Keith), then JR and Mathew and Charlie that professionalism was maintained. Promises were kept and met. From day one (and phone calls were returned!)." Lisa from Tampa
"The job was done timely, efficiently and neatly."
"The job they did was a complete one."